About Us
We, S.A. Instruments And Systems, are a proud ISO and CE certified enterprise, focused on completing all our tasks in a client centric manner. This has made us one of the most trusted manufacturers and exporters of the domain. Our offered list of Gas Sampling Bomb, Ultrasonic Cleaner, Oil Free Vacuum Pump, Nitrogen Gas Cylinder Regulator, Hydrogen Gas Generator, etc., manages to win the hearts of clients. The designs, quality and durability of our range meet the high expectations of customers without any failure. To assure this, we constantly comply with the international standards applicable to our range as well as trade activities. Across the globe, our company caters to many government agencies, large, small as well as medium international laboratories and many more. We are appreciated by many research centers, universities, petroleum corporations, pharmaceutical companies and many more worldwide.
Under the vigil of Mr. Amit Kumar Yadav, we have worked in an ethical manner, since our incorporation. This has made us a leading name in international markets like:
Asia
Australia
USA
Europe
Gulf Countries
Africa
Our Vendor Base
We are backed by a skilled group of vendors across the country, they offer us with top quality raw materials. Such procured materials allow us to produce best in class assortment of Oil Free Vacuum Pump, Ultrasonic Cleaner, Nitrogen Gas Cylinder Regulator, Hydrogen Gas Generator, Gas Sampling Bomb, etc., with ease. The higher the quality of materials used the more reliable our range proves to be. This is the reason, we select the most acclaimed names from the market. Striking beneficial deals with them, we manage to cater to our clients needs. .
Quality & Compliance
Quality Standards
Our enterprise is a regular compliant of ISO 9001:2015 standard. Regularly, we work hard to match up our range to the level of perfection stated in the mentioned standard. Further, we make sure that our range is in seamless compliance with many international standards as well. We always maintain our quality focus, our impressive quality management system supports us in our endeavors. Our senior level management leads our quality management as well as processes improvement groups at the premises. This team is responsible for quality testing and improving our range overall as per the clients changing requirements. The team also makes sure that all the activities performed in our company are completed in ethical, legal and customer friendly manner.
Objectives/Goals of Quality Departments
Our quality department is focused on providing reliable training to all of our employees, franchisee regarding quality management, ISO standards as well as processes. This department also focuses on implementing best practices on a regular basis, in order to provide maximum gratification to customers. They conduct internal audit as well as take preventive/corrective actions with perfection. They focus on completing each task with an aim to assure continuous improvement of our range, company policies and processes.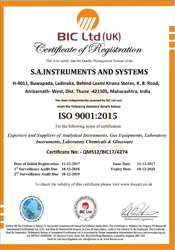 Read More